SOMA has helped maintain the quality of our environment since 1992, providing a full array of environmental consulting services addressing water, soil, and air quality. Serving public and private clients, we perform environmental site assessments for property transfer and other applications, site cleanup, and site closure, and provide services for regulatory compliance, litigation support, and a host of other environment-related issues.
Clients select from a flexible menu of services ranging in scope from a Phase I environmental site assessment (ESA) to full environmental management from investigation through regulatory closure.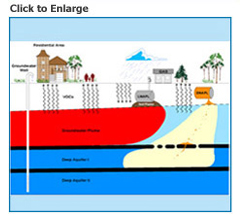 SOMA's seasoned team of engineers,
hydrologists, geologists, and environmental
scientists has provided solutions for wide-
ranging property types that present diverse environmental challenges. Working in complex hydrogeologic settings with varied regulatory issues, they have established an outstanding track record in delivering high-quality, innovative, cost-effective services.